$987
100 Students one year unlimited access
Annual Subscription License
Achieve Business Growth
Here at MySpanishTeacher.com we support enterprises to provide additional learning and development opportunities in progressing their employees' skills and support internal professional development programs. Our course empowers students to learn the essential material for real-life, day-to-day situations within their job roles. Our best case studies show that it will drive an average of 90% completion rate and a 50% improvement in Spanish customer engagements with an internal development program.
Why an Annual Subscription License?
We are dedicated to reaching as many working professionals as possible to provide useful interactive skills in sharpening professional development. Therefore we have created a simple, attractive structure to make this course accessible to the workplace and enterprise.
Pricing
One flat annual subscription of $987 generates 100 user keys that can be assigned at any time during the subscription term from your dedicated administration account—enabling your training and development to onboard new users quickly at any time. We ensure you will be satisfied with your course with a 14-day money-back guarantee giving your teams a chance at getting hands-on to make sure it meets your satisfaction.
By taking the Annual Subscription License with MySpanishTeacher.com, we were able to enable the whole branch at the bank to get on board with MySpanishTeacher.com's interactive online Spanish program. MySpanishTeacher.com made it easy for our employees to develop their Spanish skills at their convenience, and we noticed that our customer support started to exceed standards with our Spanish speaking customers.
Benefits of the Annual Subscription License
Accessible 24/7, making learning fit into a busy working schedule
Easy to use on mobile, tablet, or desktop with internet connection
Support hub 24/7 available - ask your licensed instructor any questions about the course material and training. Real teacher contact!
As an administrator, you will stay informed by having visibility over each user's progression throughout the course. (test results / assessments / completion / unused license keys)
Price advantage with the Annual Subscription License. Train 100 employees for one low price
No software to download. Use a standard internet browser on desktop or mobile
Unlimited Access
With the Annual Subscription License, you will have unlimited access for 100 users to sign on anywhere, anytime, as long as they have access to the internet. For users to complete the course, they will have spent a minimum of 15 hours and received a 70% or higher on the module tests.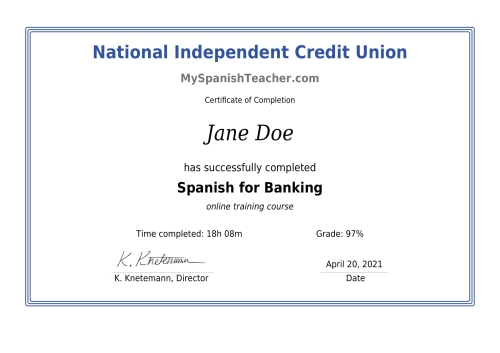 Upon the users completing the course, MySpanishTeacher.com will provide a Certificate of Completion. The Certificate will include and list the enterprise that sponsored the training and the hours dedicated to the Spanish training.