$129.00
6 months unlimited access
Spanish for Real Estate

The Ultimate Guide for Realtors to Connect, Communicate, and Close Deals with Spanish-speaking Clients
Looking to expand your real estate business in Spanish-speaking markets? Look no further! Our website offers comprehensive resources to learn Spanish specifically tailored for real estate professionals. With our specialized content, you'll gain a competitive edge by being able to communicate more effectively with Spanish-speaking clients, negotiate deals with ease, and build stronger relationships. Don't let a language barrier limit your potential in the global real estate market. Start learning Spanish today with our website and take your business to the next level!
Specialized Spanish Vocabulary for Realtors
MySpanishTeacher offers online Spanish vocabulary lessons tailored to realtors. Our platform will guide you through targeted lessons, quizzes, and interactive exercises, ensuring you'll master the vocabulary you need to succeed. Don't waste your time with generic language courses. Sign up now and start learning the specific Spanish vocabulary you need to achieve your goals!
To receive your certificate, complete the following: Spend 15 hours online (the program automatically tracks your time) and complete the online course assessments with 70% or higher. (you may re-take a test anytime)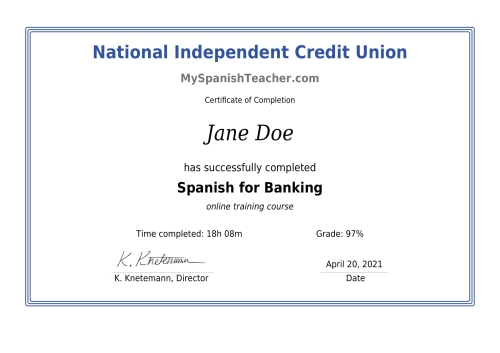 What is Included in the Training?
Receive a certificate of completion upon completion
Accessible 24/7, making Spanish learning fit into a busy working schedule and in the comfort of your home
Support hub 24/7 available - ask your licensed instructor any questions over your professional course material and training. Real teacher contact!
Unlimited access of course material
Great Success rates, Check out our student testimonials page!
Custom alerts to track your progress through the Spanish course. (weekly, daily word of the day)
Affordable course to develop your career and Spanish skills
No software to download. Use a standard internet browser on desktop or mobile
Annual License – Empower Staff Members with Spanish Skills
This Spanish course is also available as an Annual Subscription License. We are dedicated to reaching as many working professionals as possible to provide functional interactive Spanish training while sharpening professional development. Therefore, we have created a simple, attractive structure to make this Spanish course accessible to the workplace and enterprise.