$129.00
6 months unlimited access
Spanish for Customer Service

Gain a Competitive Edge in Customer Service: Top Reasons Why Learning Spanish is a Game-Changer
In today's global marketplace, the ability to communicate effectively in multiple languages is an essential skill for any customer service professional. Among the most valuable languages to know, Spanish ranks at the top due to its widespread usage in both the United States and across Latin America.
Having a strong command of Spanish can enable you to effectively serve a wide range of customers, build rapport, and provide high-quality assistance. With over 40 million Spanish speakers in the United States alone, being bilingual in Spanish can give you a competitive edge in the job market and help you stand out to potential employers.
Capture Spanish-Speaking Customers: Grow your Business
Furthermore, learning Spanish can also demonstrate your commitment to providing exceptional customer service and your willingness to go the extra mile to meet the needs of your clients. It can show that you are open-minded, culturally aware, and respectful of diversity, which can help you build stronger relationships with customers and colleagues alike.
In short, mastering Spanish can be a game-changer for your career in customer service, opening up new opportunities for growth and success. So why wait? Start learning Spanish today and take your customer service skills to the next level!
To receive your certificate, complete the following: Spend 15 hours online (the program automatically tracks your time) and complete the online course assessments with 70% or higher. (you may re-take a test anytime)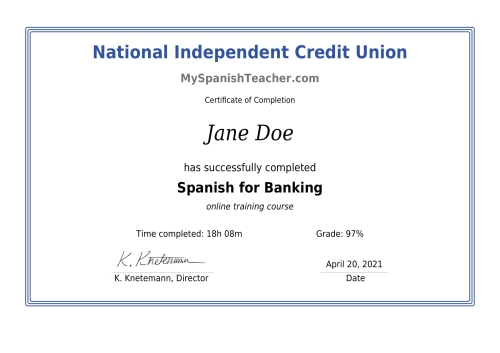 What is Included in the Training?
Receive a certificate of completion upon completion
Accessible 24/7, making Spanish learning fit into a busy working schedule and in the comfort of your home
Support hub 24/7 available - ask your licensed instructor any questions over your professional course material and training. Real teacher contact!
Unlimited access of course material
Great Success rates, Check out our student testimonials page!
Custom alerts to track your progress through the Spanish course. (weekly, daily word of the day)
Affordable course to develop your career and Spanish skills
No software to download. Use a standard internet browser on desktop or mobile
Annual License – Empower Staff Members with Spanish Skills
This Spanish course is also available as an Annual Subscription License. We are dedicated to reaching as many working professionals as possible to provide functional interactive Spanish training while sharpening professional development. Therefore, we have created a simple, attractive structure to make this Spanish course accessible to the workplace and enterprise.