$129.00
6 months unlimited access
Spanish for Banking
Essential Spanish training for Bankers: Mastering financial Spanish
Welcome to "Spanish for Bankers"! Our website offers comprehensive Spanish language courses tailored specifically to bankers and financial professionals. Whether you want to improve your communication skills with Spanish-speaking clients or expand your career opportunities, our expert curriculum and personalized approach will help you achieve your goals. Our user-friendly platform ensures an engaging and effective learning experience. Don't let language barriers hold you back - join "Spanish for Bankers" today and unlock new opportunities in the global marketplace!
Our Spanish training is designed for bank tellers, bankers, loan processors, cashiers, bank managers, loan officers, and banking administrators.
After your team member completes the Spanish training, they will be able to:
Better communication with Spanish-speaking customers:
The USA has a significant Spanish-speaking population, and many of these individuals may prefer to conduct their banking transactions in their native language. Learning Spanish can enable banking staff members to communicate better with these customers and provide them with the support they need.
Increased customer satisfaction
When banking staff members are able to communicate effectively with their customers, it can lead to increased satisfaction levels. This, in turn, can lead to better customer retention rates and increased business.
Enhanced cross-cultural understanding
Learning Spanish can also help banking staff members develop a better understanding of the Spanish-speaking cultures that exist within the USA. This can lead to increased sensitivity to cultural differences and better customer relationships.
Learning Spanish can be a valuable asset for banking staff members in the USA, helping them provide better customer service, increase customer satisfaction, and expand their career opportunities.
Self-paced Spanish course designed for Banking Professionals
We developed a specialized language learning platform, taking you, the professional, into consideration. MySpanishTeacher is an online interactive language learning system that allows students to learn essential vocabulary used daily at work. MySpanishTeacher is a flexible program that you can access 24/7, leaving you to decide when and where to study as long as you have access to the internet.
To receive your certificate, complete the following: Spend 15 hours online (the program automatically tracks your time) and complete the online course assessments with 70% or higher. (you may re-take a test anytime)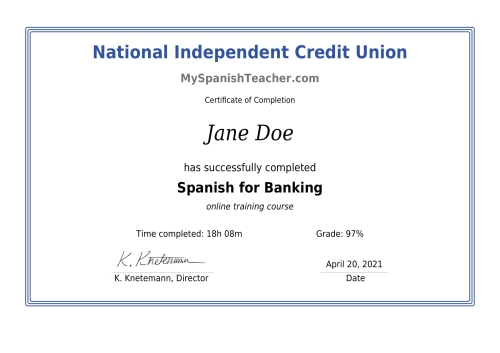 What is Included in the Training?
Receive a certificate of completion upon completion
Accessible 24/7, making Spanish learning fit into a busy working schedule and in the comfort of your home
Support hub 24/7 available - ask your licensed instructor any questions over your professional course material and training. Real teacher contact!
Unlimited access of course material
Great Success rates, Check out our student testimonials page!
Custom alerts to track your progress through the Spanish course. (weekly, daily word of the day)
Affordable course to develop your career and Spanish skills
No software to download. Use a standard internet browser on desktop or mobile
Annual License – Empower Staff Members with Spanish Skills
This Spanish course is also available as an Annual Subscription License. We are dedicated to reaching as many working professionals as possible to provide functional interactive Spanish training while sharpening professional development. Therefore, we have created a simple, attractive structure to make this Spanish course accessible to the workplace and enterprise.