$129.00
6 months unlimited access
Spanish for Teachers

The Power of Spanish: Empowering Educators to Teach with Passion and Precision
Are you a teacher looking to expand your skills and connect with your Spanish-speaking students on a deeper level? Look no further than Spanish for Teachers! Our comprehensive curriculum and personalized approach will help you master the language and transform your classroom into a vibrant, inclusive space. From grammar and vocabulary to cultural immersion, we've got you covered. Sign up today and take the first step towards becoming a more effective, empathetic educator!
Spanish skills can bridge communication gaps between Spanish-speaking students and their teachers. Schools can improve communication, build stronger relationships with Hispanic families by providing Spanish training for teachers, and create a more inclusive learning environment.
Break through Cultural Barriers
Spanish for teachers can enhance cultural competence. Understanding the language and culture of Spanish-speaking students can help teachers better to understand their experiences, perspectives, and backgrounds. This can help teachers create more culturally responsive lesson plans, tailor instruction to meet the needs of their students, and ultimately improve student engagement and achievement.
Spanish for teachers can also benefit educators who work with Spanish-speaking students outside of the classroom. For example, administrators, school counselors, and support staff can benefit from learning Spanish, as it can help them better communicate with students and their families, provide support and resources, and ultimately improve student outcomes.
By improving communication, enhancing cultural competence, and providing support to Spanish-speaking students and their families, Spanish training can help to create more inclusive and effective learning environments.
Empowering your Teaching with Spanish
We developed a specialized language learning platform, taking you, the professional, into consideration. MySpanishTeacher is an online interactive language learning system that allows students to learn essential vocabulary used daily at work. MySpanishTeacher is a flexible program that you can access 24/7, leaving you to decide when and where to study as long as you have access to the internet.
To receive your certificate, complete the following: Spend 15 hours online (the program automatically tracks your time) and complete the online course assessments with 70% or higher. (you may re-take a test anytime)
Do you have parents or students that could use a little help learning English? Here is a free ESL resource.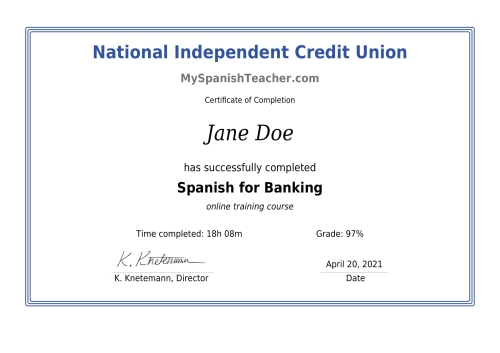 What is Included in the Training?
Receive a certificate of completion upon completion
Accessible 24/7, making Spanish learning fit into a busy working schedule and in the comfort of your home
Support hub 24/7 available - ask your licensed instructor any questions over your professional course material and training. Real teacher contact!
Unlimited access of course material
Great Success rates, Check out our student testimonials page!
Custom alerts to track your progress through the Spanish course. (weekly, daily word of the day)
Affordable course to develop your career and Spanish skills
No software to download. Use a standard internet browser on desktop or mobile
Annual License – Empower Staff Members with Spanish Skills
This Spanish course is also available as an Annual Subscription License. We are dedicated to reaching as many working professionals as possible to provide functional interactive Spanish training while sharpening professional development. Therefore, we have created a simple, attractive structure to make this Spanish course accessible to the workplace and enterprise.